Search Results
We have found 2 items matching your search query.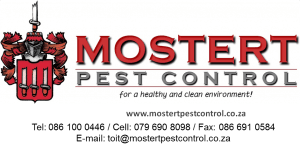 9th Avenue, Kroonstad, 9499
distance: 4,229 Kilometers
0861000446
Mostert Pest Control is professional experts in regulation and management of pest. We help anybody (residential, commercial & industrial), who has a problem with insects or ro

17 Ian Flemming Street, Kathu
distance: 3,940 Kilometers
0537231000
Mostert Pest Control is a Pest Control company situated in Kathu, Northern Cape, South Africa.